Hi, Im Notebook. NOT PAIGE, I Dont Think That Would Be A Very Creative Name. Instead, It Is My Nickname. I Like Creativity, But I Dont Like Green. Its Not A Creative Color! I Will Teach You About Creativity, But Be Warned, You Might Go Insane About My Lessons. See The Creative Pun I Did There. Anywho, Message Me Im You Want, And Have A Creative Day!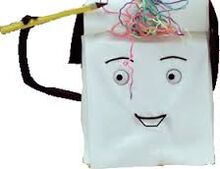 Community content is available under
CC-BY-SA
unless otherwise noted.