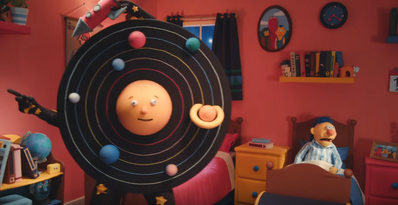 Hugo is a Character/Teacher who appears in
Don't Hug Me I'm Scared 6
.
He briefly appears during the flash of teachers while Red Guy experiments with the machine. It teaches about the universe, planets, and spaceships.
Appearance
It appears to be starred by a live human with a large, black disk taped to its front. Rings go around the disk, with corresponding planets on them. A large sun sits in the middle of the disk. Its left hand holds a spaceship.
Quotes
"We are in the Universe!"
"Planet's live inside the moon"
"A rocket ship can go to space. A rocket ship can go to the moon!"