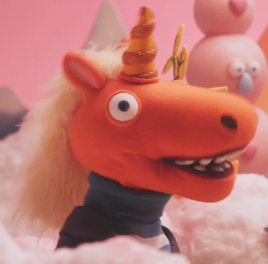 The Unicorn is one of Shrignold's friends and a member of the Love Cult in Don't Hug Me I'm Scared 3. He worships Malcolm, the King of Love.
AppearanceEdit
He is orange with a golden horn, a blond mane and blue eyes. He wears a blue shirt with white stripes, a dark blue jacket, gloves and black shoes.
Villainous ActsEdit
"It is true!"
"Everyone has a special one."
"And she's made for him!"
"Like a flower, it grows and grows!"