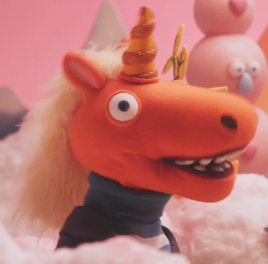 "Everyone has a special one." ~ Unicorn
Unicorn is an antagonist and one of Shrignold's friends in Don't Hug Me I'm Scared 3. He worships Malcolm, the King of Love.
Appearance
He is orange and has a gold/yellow horn, a blond mane and blue eyes. He wears a blue shirt with white stripes, a dark blue suit, gloves, and black shoes.
Villainous Acts
Gallery