Ratty is an unseen, though, possibly recurring character in the DHMIS series.
A food bowl containing the name "Ratty" can first be seen placed near the left wall of the kitchen in Don't Hug Me I'm Scared 5, and again in DHMIS 6, in front of Red Guy's bed.
References
Each episode features a hole in the wall, something commonly associated with mice and rats living in the walls of a house. It is possible that these holes were made by Ratty, and that the puppets have taken to naming and feeding him.
Roy is seen uploading a youtube video named "Rat Eats Egg" in the longform kickstarter pitch video.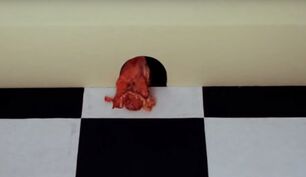 Episode 1 shows a brief shot of entrails being taken into a hole in the wall, and later, a trail of blood trickling out onto the floor. It's possible that Ratty is responsible for both events.
Community content is available under
CC-BY-SA
unless otherwise noted.