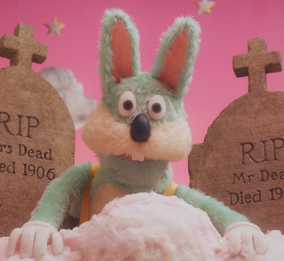 Rabbit Boy is a minor antagonist in Don't Hug Me I'm Scared 3. He is a member of the Love Cult and he worships Malcolm (his King) He is voiced by Becky Sloan.
Appearance
He is a grey rabbit that wears yellow/blue overalls, gloves and black shoes.
Quotes
"Yes we do!"
"I love my friends so I give em a hug!"
"Even Michael!"
"So be patient and just maybe... your special one will come!"
"That's the way it's always been!"
Gallery
Trivia
Many fans thought he was going to be the teacher.
Due to his voice, it can be assumed that he is a young child. Some fans also thought he was a girl because his voice actor is a girl (Becky Sloan).