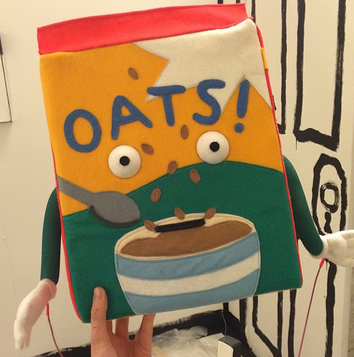 Oats are a reoccurring aspect of the series Don't Hug Me I'm Scared.  
Appearances
Oats first appeared in Don't Hug Me I'm Scared 4, They appear in the first scene of the episode, on the part of the list that comes out of Colin The Computer's head as a potential option for favorite food. Oats are later seen in the 'digital world' in which they can be seen floating in the sky with what may be the legs of some sort of bird coming out of it. They also make an appearance in the dancing scene in the form of an Oats box. Oats finally appear at the end of Don't Hug Me I'm Scared 4, in which the Red Guy sees the low budget mockup of Don't Hug Me I'm scared in which they can be seen in place of a teacher. in Don't Hug Me I'm Scared 5 half of the oats box can be seen coming out of a wall.
Appearances
The Oats have been seen in 4 forms, one in which is a white bowl with 2 light blue stripes in it (similar to the bowls seen in Don't Hug Me I'm Scared) and in another it appears as a box with red sides and tip, the front has a white top and green bottom with a curvy line between the two, OATS! Is said on the front, it shows oats falling into a bowl with a spoon next to it, it also has a white comic style bubble on the corner. Its third form is quite similar to the second one but has dark blue arms on either side and a white hand, it is also implied to be a teacher. its final form is just like the previous 2 but is digital, has no eyes, has a more simple look to it, and has red legs ending in large yellow shoes
Trivia
Another connection between the two is they both make their first appearance in Don't Hug Me I'm Scared 4.
It's debatable whether all forms of the Oats are one and the same.
The lines at the end of the 4th episode may have been stated by the Oats.
If not, the Oats has spoken no lines.
The Oats are commonly theorized to be a metaphor for targeted advertisement.
Community content is available under
CC-BY-SA
unless otherwise noted.