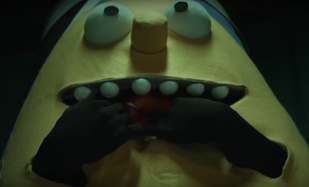 The Monster Can is an antagonist in Don't Hug Me I'm Scared 5. They are gigantic yellow cans that eat Duck Guy. 
It first appeared when it ate Duck Guy's organs and then killed him which caused Yellow Guy to eat him. 
Appearance
The Monster Can appears to be a huge, yellow version of Spinach Can. He has 6 teeth, a long nose, and stubby black arms.
Trivia