Kickstarter is a website where projects can be brought to life, for example: Don't Hug Me I'm Scared: The Series, which succeeded on June 19th, 2014.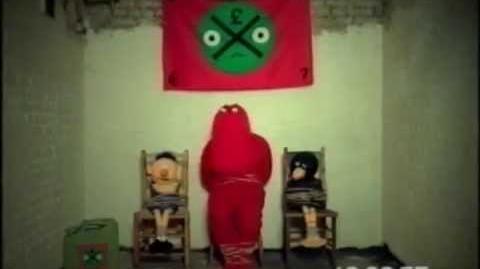 Don't Hug Me I'm Scared: The Series
The Don't Hug Me I'm Scared Kickstarter was a project that needed 96,000 pound sterlings, dollars, and other kinds of money or else the puppets would have been killed.
The video
Yellow Guy, Red Guy, and Duck Guy are tied up in a torture chamber, Yellow Guy asks where they are. Duck Guy realizes that they aren't in their house and Red Guy points out that they are tied up, Bird Puppet finds it strange since he doesn't remember tying himself up or falling asleep in the chamber. Yellow Guy confuses the chamber for his dad's house, Red Guy reminds him that they aren't at his dad's house, Bird Puppet notices the smell of rats and gasoline, Money Man goes over to Bird Puppet and duct tapes his mouth shut. Red Guy is forced by Money Man to read a script. One of Sketchbook's pages can be seen lying on the floor and Money Man shuts the door.
The narrator describes what Don't Hug Me I'm Scared is about. Then he says that there are further lessons to be learned and it is why they are calling on the fandom, it is shown that Don't Hug Me I'm Scared has over 20 million views on YouTube and they smile upon it. The narrator mentions that making the show independently will mean that the show will be made more quickly, the video shows the picture of the puppets and the narrator asks the fandom to help.
Red Guy presumably gets hit with a hammer.
Rewards
Becoming an official member of the fandom
A drawing by the Yellow Guy
Becoming an executive producer of the series. 
The project got more money than expected, it got 104,905 pound sterlings, dollars, and other kinds of currencies, which made the project successful.
Credit card fraud incident
The creators of Don't Hug Me I'm Scared have discovered that someone has pledged 35,000 pound sterlings to their project, they found out that it was actually credit card fraud. The creators have alerted Kickstarter about the incident.
The Kickstarter
http://www.kickstarter.com/projects/1127979050/dont-hug-me-im-scared-the-series