Luvme69 wrote:
Draw the main three hugging!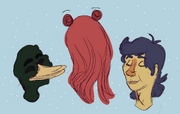 I tried to draw them
hugging
, but it proved to be way too difficult-- their bodies, that is. The style I drew this in itself is very simplistic and cartoony compared to my usual stuff since lately I haven't been in the mood to really
push
myself. Considering this is also a complete freebie, I especially didn't feel like putting in the extra effort. XvX; So, instead I just kept them as little heads. I hope you still enjoy it anyway, and if you want, I can also throw in the adminship as a secondary prize.
Community content is available under
CC-BY-SA
unless otherwise noted.